STRENGTHEN
YOUR CORE
AND SAY GOODBYE
TO BAD POSTURE.
The Importance of Core Muscles
What are core muscles?
Located in the area of your belly, lower back, and pelvis,
your core muscles support your spine and helps your body maintain its balance.
Why do you need to strengthen your core?
Strong core muscles
1.Help you maintain good posture
2.Help reduce back pain
3.Help you tone abdominal fat by burning more calories
Draw the belly in toward the spine and maintain contraction
for 3-5 breaths.
How can you strengthen your core?
Drawing-In Maneuver is one of the best core stabilization techniques.
With your back straightened and stomach tensed,
you are already doing one of the best core exercises with FIVIS.
FIVIS helps you work on your core muscles throughout the day.
Tense your stomach and wear FIVIS.
When you relax
and let go of your stomach,
FIVIS notifies you
with vibration alert.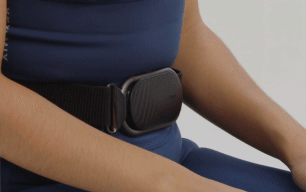 When you lean on
one side or slouch,
FIVIS notifies you
with a vibration alert.
Time Spent
Building
Core Muscles
Time spent
Maintaining
good Posture
Feedback
Vibration or​
PushNotification
Push Notification Setting
The Benefits
You Will Get
Point 01
Strengthen
Your Core
Point 02
Improve
Your Posture
115 x 59 x 13mm
(4.52" x 2.32" x 0.51")
Smart Watch Band Material
Comfortable and Breathable